Welcome to Son of Samson Wiki!
A wiki about Zondervan's Son of Samson comic book series.
The wiki contains 105 articles and 152 images since its creation on 9 August 2012.
Featured Article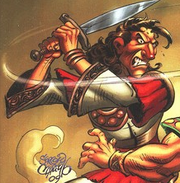 Sidon
is the father of
Saphira
and ex-husband of
Delilah
, who abandoned him to become the mistress of the Hebrew judge
Samson
. He is a top commander in the Philistine army and is a seasoned war veteran. What his wiry six-foot frame lacks in raw muscular power he makes up for in skill with diverse weaponry, especially the sword. He evinces an entrenched hatred of the Jews and makes the most of any opportunity to harass and persecute them, which leads which leads to his frequent altercations with their hero and defender Branan.
Read more...
Related Videos
Featured Quote
"Tha's 'ight... You retter bun! You liver rizard!"
―Branan, after getting bodyslammed by the Old River King