Welcome to Son of Samson Wiki!
A wiki about Zondervan's Son of Samson comic book series.
The wiki contains 105 articles and 152 images since its creation on 9 August 2012.
Popular Characters
Featured Article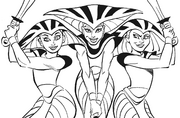 The
Warrior Maidens of Goshen
are three elite sentinels of Egyptian background and Philistine warlord Amalek's personal bodyguards. They are evidently his most formidable warriors, as proved by the fact that only they and their master Amalek are left on the battlefield after their rout of an opposing Babylonian army. The women guard the third level of Amalek's citadel and are the last enemies Branan must defeat in order to reach Amalek and the bronze serpent staff in Amalek's personal residence on the fourth level of the citadel.
The warrior maidens appear once in the Son of Samson comic in volume five of the series and receive a quick mention in volume six.
Read more...
Related Videos
Featured Quote
Gallery
If you could be a superhero in any era, which time period would it be?