Welcome to Son of Samson Wiki!
A wiki about Zondervan's Son of Samson comic book series.
The wiki contains 105 articles and 152 images since its creation on 9 August 2012.
Popular Characters
Featured Article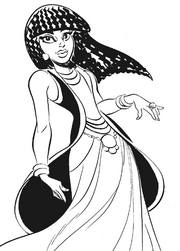 Aziza
is the eponymous Witch of Endor and high priestess of the goddess Ashtoreth from volume five of the series. She resides with her brother Jareb in Lod and has apparently worked as a servant for Lord Amalek at his citadel in the past. Convinced that obtaining Moses's serpent staff will confer to her eternal life, Aziza hires Branan to help her storm Amalek's fortress and regain the bronze serpent. She leads Branan to believe that the Witch of Endor is someone else and that Aziza only wants to return the sacred staff to the priests at Shiloh so that the Lord's curse on the town of Lod will be lifted.
Read more...
Related Videos
Community content is available under
CC-BY-SA
unless otherwise noted.